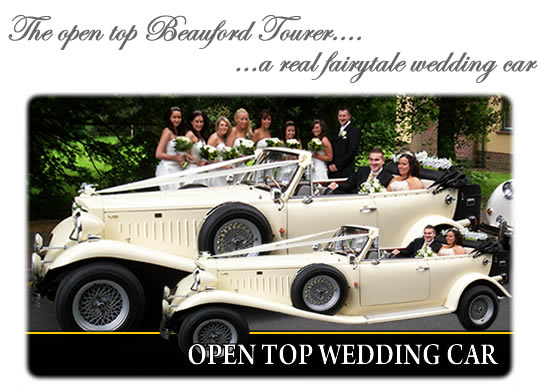 Cream Open Top Wedding Car
The Beauford Tourer's flowing lines are a throwback to the popular roadster designs of the 1920s and 1930s, when taking to the open road was considerably less hectic than it is today! Cared for in-house by our expert mechanics, our model combines the beautiful designs of yesteryear with modern day standards of reliability and comfort.
Regarded by many as the versatile 'fairytale' wedding car the bride and groom can relax and celebrate with an open top journey in the sunshine and, should the typical British weather take a turn for the worse, will remain dry in the rain thanks to its retractable hood.
Other key features of the Beauford include a decorative luggage case attached to the rear of the car, running boards for easy boarding and alighting, traditional headlamps, leather seating and generous amounts of legroom for the bride and groom.
Burnley Wedding Car Bookings
Bookings and enquiries can be made by calling our office on 0800 083 1782 or 01204 522 422. To send an enquiry about our Beauford online please complete the wedding car enquiry form and we'll contact you by telephone or email.