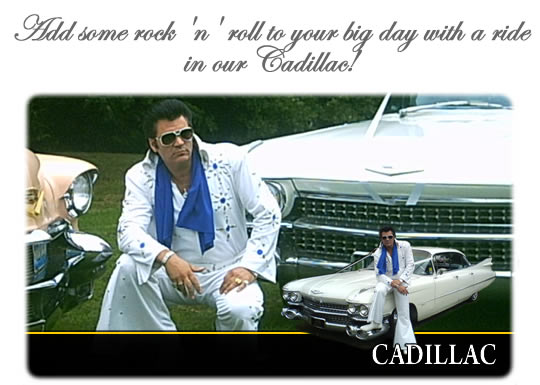 Cadillac Wedding Car (With Elvis Chauffeur)
Get the best seat in the house with a wedding ride in our truly iconic Cadillac. With its unmistakable looks and American V8 beneath the hood the 'Caddy' is perfect for the bride and groom looking to add some extra rock 'n' roll to their special day.
As with most American cars that rolled off the Detroit production line in the 1950s and 1960s our example includes the famous tail fins along with no shortage of shiny chrome plating. Passengers can enjoy an armchair style ride courtesy of leather bench style seating and ample legroom.
Customers also have the unique option of hiring our Elvis chauffeur in order to provide even more authenticity to the occasion.
Book Your Cadillac Wedding Car Today!
Viewings are welcome by appointment. For all Cadillac wedding car hire bookings in Accrington, Hurstwood, Holme Chapel, Rossendale, Dunnockshaw and Reedley Hallows please complete the enquiries form or call our workshop on 0800 083 1782.